End Family Detention
Family Separation at the U.S.-Mexico Border: What is Happening, and What Can We Do About It?
At the beginning of May 2018, Attorney General Jeff Sessions announced that DHS is implementing a new "zero tolerance" policy that institutionalizes family separation at our border and criminally prosecutes all border-crossers, including asylum-seeking families and children. The administration claims that this measure will deter families from fleeing to the United States, but we know that it is nothing more than a heartless attempt at punishing families for trying to escape dangerous conditions in their home countries.
This is the latest extension of a U.S. border policy of "prevention through deterrence," or the flawed concept that the U.S. will be able to prevent migration by making the circumstances of the journey too awful to accomplish. As has been seen throughout the implementation of this policy, it does not prevent or deter migration, but rather causes extreme suffering and death among those who migrate. The situations that cause individuals to flee their home countries are simply so horrific they are not able to justify remaining in their home countries, no matter the difficulty of the journey they face. Further, these conditions are both caused and worsened by direct U.S. intervention in Latin America.
Here is what you can do: READ IFCLA's Statement on Family Detention. ATTEND one of the events below. SIGN the petitions to tell Donald Trump, Jeff Sessions, and Secretary Kirstjen Nielsen, Secretary of the Department of Homeland Security, to stop separating families at the U.S-Mexico border. CALL and WRITE your representatives to demand that they end family separation at the border. Use SOCIAL MEDIA to share your opinion. You can also EXPLORE the links at the bottom of this page to understand more about what is happening.
Contact Your Elected Officials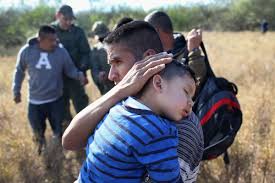 Tell Congress to Keep Families Together
Share your opinions on social media!
Looking for More Information on Family Separation and Detention? Look Here.